Pan American Champions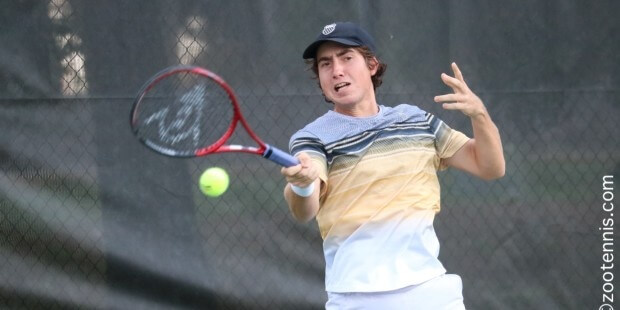 With a new venue and an earlier date, the International Tennis Federation J300 Pan American Closed ventured into new territory last week in Houston. Yet when the hot and humid week drew to a close, the top two seeds in both boys and girls draws made the finals, with No. 1 seed Alex Frusina and No. 2 seed Maya Joint capturing the titles. Story
Connect with Lotto Elite on Instagram and Facebook.
Help build our following.
Follow us on Facebook
| | |
| --- | --- |
| Photo galleries are proudly presented by College Tennis Experience Showcase Camps. | |
Inspiration Academy Tennis is the proud sponsor of Recruiting Class Rankings for college tennis teams. Check out the top classes from across the country - and see how your team stacks up.
National Showcase Tournaments are USTA-sanctioned events open to players from all sections. Compete against players outside of your district or section - and earn credit towards your Tennis Recruiting ranking.
Date
Tournament
Events
9/30
L5 Open: Phoenix Junior Challenger
Phoenix, AZ
BG12-18
9/30
L5 Open - City of Plantation Splitz
Plantation, FL
BG16,18
10/07
L2 Columbus Day Open
Delray Beach, FL
BG12-18
10/07
L4 Open Southern Open
Rome, GA
BG16-18
10/13
L5 Open: Kiawah Island Clay Court
Kiawah Island, SC
BG12-18
10/21
L5 Open: McCallie John Strang Chmps.
Chattanooga, TN
BG12-18
11/03
L5 Open: Dennis Van Der Meer Tennis Chmps.
Hilton Head, SC
BG12-18
Click here for the complete
Series Schedule
Diadem is proud to present exclusive college content - covering men's and women's college tennis programs of all sizes from around the country.
Smith Stearns Tennis Academy is proud to present the College Commitment Lists. Check out the latest commitments here - and the full listings below.
Full Listings: Boys' Commits & Girls' Commits
Smith Stearns Tennis Academy
- training young players with a true passion for tennis since 2002.
| | |
| --- | --- |
| For all things college tennis, check out College Tennis Today - with coverage, insight, and analysis of the game. | |
The USTA's Tennis On Campus program is designed to provide college students with opportunities for team camaraderie, social networking, and rivaled competition through tennis without the rigors of a varsity program.
| | | |
| --- | --- | --- |
| Last month, the USTA awarded gold balls to the winners of the 2023 USTA National Championships. Take a look at these great events. | | |