Clay Court Championship Week
Stewart's Streak Continues in Girls 18s Clays
by
Colette Lewis
, 25 July 2014
When Katerina Stewart lost to Grace Min in the quarterfinals of a $25,000 Pro Circuit tournament in Florida back in March, she couldn't have known she would go the next four months without losing a match, and only one set. When Stewart defeated Kennedy Shaffer 6-1, 6-3 in the final of the Girls 18s Clay Courts at the Racquet Club of Memphis last week, she not only collected a first singles gold ball on her favorite surface, but also extended her winning streak to 34 matches in professional and junior competition.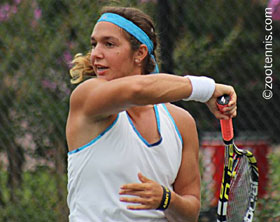 Seeded fifth, the reigning
16s USTA National Hard Court
champion started the tournament with two 6-0, 6-0 victories, but had what she called a "rude awakening" in a 7-6(3), 7-5 third round win over
Emma Davis
, a No. 17 seed.
"You always need that, even if you don't want it, which I really did not want it," said Stewart, who celebrated her 17th birthday during the tournament. "You need it to prepare you for the tougher matches at the end."
Those matches never came, as Stewart lost only ten games in her last three matches, including a 6-2, 6-3 quarterfinal win over top seed Francesca DiLorenzo. Stewart took early leads and never lost focus or motivation, despite a drastic change in weather conditions which saw the usual heat and humidity of Memphis exit midweek, replaced by cool and cloudy weather. For the semifinals of singles and the doubles final, persistent rain forced the tournament onto the indoor clay courts of Tunica National, some 30 miles south of Memphis in Mississippi.
While Stewart was cruising through the tournament's later stages, Shaffer was showing her stamina and mental toughness, beating 2011 champion Gabby Andrews 7-6(4), 5-7, 7-6(4) in a nearly three-and-a-half-hour quarterfinal match and No. 4 seed Jessie Aney 1-6, 6-1, 6-2 in the semifinals.
The 17-year-old Ohio native, who trains at the Ivan Lendl Academy in Hilton Head, South Carolina, spent most of the spring on the sidelines with a back injury, without much success to build on in her few tournament appearances since May.
In the final, played under overcast skies with temperatures in the 60s, Stewart took control early, winning the first two games, both of which went to deuce.
"To get the lead is very important, especially in a final, when both of us were feeling the nerves," said Stewart, who trains with her father Caesar at Next Level Tennis Academy in Coral Gables, Florida. "Just executing your game quicker than your opponent is obviously an advantage and it just kept rolling for me. Once I got going, got the nerves out, I started hitting the ball, and it was really working for me today."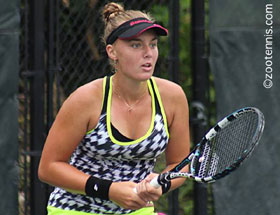 "She's just an incredibly solid player," said Shaffer, a No. 17 seed who had never been beyond the fourth round at a USTA National Level 1 tournament. "I didn't feel like I had much energy left and against a player like her you have to be a hundred percent physically, mentally or she will just wear you down. Corner to corner, heavy balls, pushing you back...she moves well, she has that good slice, she covers the court very well. I just think she's an all around great athlete and she's tough. She's really tough to beat."
Although Shaffer didn't get many chances to get back in the match, making errors that didn't surface against Aney in the semifinals, when she did get a 0-30 lead or have a rare break point, Stewart came up with a big serve, usually drawing a weak return that could be efficiently put away.
"I was focusing on making a very high percentage of first serves," said Stewart, who grew up on the same Har-Tru surface used at the Racquet Club. "She's an aggressive player and I didn't want her to attack my serve. So always on the big points, I wanted to serve into the body, to keep her off balance, and it worked for me today, because I was really focusing well on the serve."
"Her serve really kicks up high," said Shaffer, who is coached by Ana Ceretto. "I felt like if I had taken even just a few more steps in I could have maybe tried to capitalize more off the returns, because that felt like my only chance. As we got farther into a rally, I got more tired, and she could just be out here hours, sliding side to side."
Stewart is delighted to have earned a wild card into the US Open Junior Championships with the title, and to have claimed a Clay Court gold ball after losing in the 14s final in 2011 and the 16s final in 2013. But her sights are now set on a wild card into the main draw of the US Open, which goes to the winner of next month's USTA Girls 18s Nationals in San Diego.
"It's going to be stacked with really good players," said Stewart, who has won three $10,000 Pro Circuit titles since March, as well as the 18s Florida Closed and the 16s Easter Bowl, where she lost her only set in the streak. "Everyone wants that wild card - I want that wild card. Even though I'm going to the US Open juniors, that's the big one. I know there are going to be really good players, and I love playing great competition, so that's going to be fun."
Shaffer, the tournament's sportsmanship award winner, is excited by the prospect of returning to hard courts, her preferred surface, and by the confidence she's gained.
"That's a lot better for me," the
Georgia
recruit said of the San Diego hard courts, which will aid her first-strike game style. "I think confidence-wise this definitely gets me going. I haven't done too well recently, but I'm coming out of my slump. I'll take this result any day if I'm coming back. It was a good run, and I had a really good time, and I got my first [USTA] ball. That's all I really wanted."
Stewart also reached the doubles final with Mia Horvit, but settled for a silver ball when Andrews and Kenadi Hance claimed the gold with a 6-3, 7-5 victory in a contest between two No. 9 seeds.
Andrews and Hance had not planned to play together, but when their previously arranged partners pulled out, they paired up at the last minute, when Andrews was checking in prior to the tournament.
Although both are from Southern California, they had not played together since the 12s, and it looked as if their tournament was going to end in the semifinals, when they trailed Jacqueline Urbinati and Melissa Lord 6-3, 5-2 before pulling out a 3-6, 7-5, 7-5 victory, which included saving a match point.
"Down 2-5, I'm hitting underhand serves," said Andrews said of that semifinal, when pain in her right shoulder began to impede her serve and overhead. "[Kenadi] said, if we're going to go out, we're going to go out having fun. And somehow we win that game, and then another, and momentum's going our way. I didn't even care about my arm anymore, my new serve, I don't care what anyone else thinks."
Andrews, who won two junior slam doubles titles with Taylor Townsend in 2012, started the final serving conventionally, but by the fourth game of the second set she was back to the underhand variety.
"I was planning on staying with the traditional serve but Kenadi was smart," said Andrews. "She said, you know, your underhand serve is working, why don't you just do that for the rest of the time?"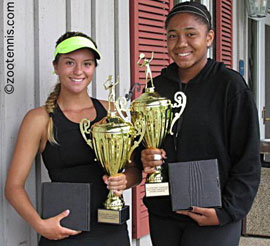 Andrews rarely missed a first serve, and the underhand slice on it proved difficult for Horvit and Stewart to attack. That didn't mean Andrews and Horvit held serve - there were five consecutive breaks from 3-3 in the third set - but Andrews dominated with her soft hands and exceptional placement while Hance did most of the crosscourt ground stroke work in rallies.
"We stayed calm and I think we played smart," said Hance, who, like Andrews, is 17. "We made them play and we weren't making too many mistakes. We only went for shots when we knew it was the right time."
"Patience was key," added Andrews, who closed out the match by holding serve. "We weren't trying to go for shots that weren't there. We were really consistent, didn't go for extreme shots at the wrong time."
Third place in doubles went to DiLorenzo and Lauren Goodman, who defeated Lord and Urbinati 6-1, 6-1.
Aney took the bronze ball in singles, defeating No. 8 seed Caroline Lampl 6-2, 6-0. Katharine Fahey, the No. 6 seed, downed the unseeded Horvit 6-0, 6-3 in the consolation final. In the newly introduced consolation draw for quarterfinalists, DiLorenzo won via walkover from No. 7 seed Kelly Chen.
Wrapping the Clays...
This article concludes our coverage of Clay Court Championship Week. I hope that you have enjoyed the efforts of all our great content contributors. We have enjoyed offering you expanded coverage this year.
Make sure to check out any article you might have missed - and get ready for our coverage of the Hard Court Championships that start next weekend.