Special Feature
Talking with Michael Joyce - Part 2
by
Colette Lewis
, 28 February 2015
Colette Lewis of ZooTennis.com got the chance to talk with former tennis player and now coach Michael Joyce earlier this month in Midland, Michigan at the $100,000 Dow Corning Tennis Classic. We printed the first part of their conversation yesterday in this article.
Today we see the rest of their conversation.
Questions and Answers
Colette Lewis (CL): What's your opinion on the decline of American tennis, especially on the men's side?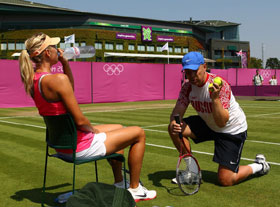 Joyce worked with Maria Sharapova for a number of years
courtesy
Clive Brunskill
, Getty Images
Michael Joyce (MJ):
I think part of the problem is if you look at tennis in general, it's so much bigger in other countries. You go to Europe, even Asia now, and tennis is right up there. In the US, we have so many other sports, the really good athletes are playing other sports. To be honest with you, if I had a daughter, if she wanted to play tennis, I would do everything I could to help her. But if I had a son...
At 50 in the world, I was probably the eighth best American. If I was that in baseball or basketball, I'd be a multimillionaire. That's the main reason.
A lot of people like to blame the USTA. I think that's silly. I think the USTA does a great job of helping when they can, but they've never really developed a player. The years of Sampras and Agassi, Courier and Chang, nobody was complaining about the USTA then, and they were doing the same thing that they are now. I think they've done a really good job with these girls who are now top hundred. They came up together, they work together, but you can't expect a system like that to produce a champion, because they really never have.
It's not a knock on them. But to do that you need the personal attention, continuity day in and day out. I'm sure in the next five years, we'll start to see some guys breaking through, and it probably won't even be an issue anymore.
Developing a champion starts at nine, ten years old. You're not going to make a champion, when you get them at 16 or 17. It starts very young and I don't think it's possible starting at 8 or 9 and you're in a system where you're seeing different coaches and hearing different voices and all of a sudden you're going to be great. It's never happened and I don't think it ever will.
CL: Who was the biggest influence on your coaching style and philosophy?
MJ: Lansdorp taught me how to hit the ball, he was my coach growing up. However, I only took one hour or two hours a week my whole life, so my biggest mentor and who helped me the most was my dad.
He would go to my lessons, see what I was working on and do it three hours a day. Take out the ball machine. So whatever Robert was teaching me, my dad was putting in my mind for another 30 hours of the week. Maria's dad didn't really know how to play tennis, but he knew how to feed balls and stuff, so she would take a lesson and he would take her out those other two hours and work on it. So you constantly have that in your mind.
That's where I think a lot of kids are missing, because they take a lesson, then they go to another coach, and the parents have money and they want to do this. But what's the most important is the repetition, when you're young. My dad was a director of photography, so I remember at a very young age he was into strategy and knowing my opponent, knowing how to change during a match. Even at 8, 9 years old, he was giving me game plans. Or when I was done playing a match, asking me the kid's weakness, making me write it down, so if I played the kid again, I knew what to do.
I never went into a match unprepared. It was a little bit annoying at the time, but I think that stuck with me. I was never the biggest kid, but I had a successful junior career and won a lot of matches because I was tougher and smarter. And I think he put a lot of that in my mind, so I see the game probably a little bit differently than most people.
A lot of coaches say you don't need to worry about your opponent, just play your game. To me that's stupid. Of course you want to play your game, but you have to be smart about what you're doing, when there are certain things that you can control. My dad, especially now that he's gone, I look back and think a lot of why I've been successful is because of the mindset he gave me.
Jose Higueras helped me a lot. When I was 18, 19 and turned pro, I started to go to Palm Springs and work. Courier was there, Todd Martin. Those couple of years I was working with him, it wasn't so much that he was changing my game, but I learned a lot of the work ethic that it takes to become the best. The day in and day out sacrifices that you make. Just being in that atmosphere was crucial, especially at that time in my life. Realizing what the No. 1 guy or the top player are doing. I learned a lot about the time and effort and work ethic that you need to have to become good.
CL: What have you learned since you started coaching?
MJ: I've learned for players to become really good, they have to like the process. They have to enjoy the process of getting better, trying to improve, not make the wins and losses the end of the world.
You see Federer, Nadal, Djokovic these guys are so successful and they keep wanting it. And Maria's the same way. She's accomplished so much, and especially with her injuries, she could have easily just retired. But I find the best players, they love the process more than the actual results. Obviously Federer's like that. What keeps him going? Nadal. Obviously not everyone's like that, that's why they're special.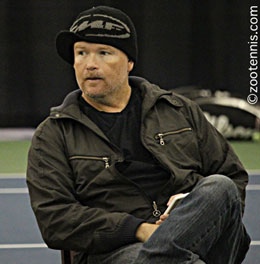 Joyce currently coaches Jessie Pegula
©
ZooTennis
When I was younger we had rankings that came out once or twice a year. It was great if you got the blue book in Southern Cal and you were No. 1 or No. 2, but it would happen once a year. You'd enter a junior tournament and you didn't see the draw until you got there and you're ready to play. Now I see kids know who they're going to play four days before.
There are parents who take kids out of tournaments because they're going to lose points. I had one mother tell me she was going to pull her son out of a tournament because she said he doesn't gain anything by winning this tournament. That hurts you. Go play.
I remember I used to lose to Jon Leach in the 10s and 12s. He was like 6-foot-2, he was my biggest nemesis, I'd lose to him all the time. And my dad would literally call up the Southern Cal section's office to see what tournaments he was in, so he could sign me up for them.
Nowadays, it's like, oh, you don't like to play that player? You don't have to. It was totally opposite. If I didn't like playing a left-hander, my dad would find every left-hander. I think maybe we've lost that a little bit. That's how you're going to learn. That's the process of getting better, not worrying where you are in the rankings next week.
CL: Would you ever consider working for the USTA?
MJ: I mean I could. I get along with them well. If they ever came forward and offered me a job, that I thought it was something I could help with, then I would definitely do it. I wouldn't want Patrick's(McEnroe) job. I don't know who's going to fill that, but it's a very tough job. You could jump into that job, but I don't know what you would really change. Then you could get lucky.
CL: You were the subject of a famous magazine article by the late David Foster Wallace during your playing days. Nearly 20 years later, how do you look at that portrayal of you?
MJ: At the time, I didn't know they were going to do it, and when he asked me if I would do it, I thought he was kind of weird, the way he thought. He was a genius, obviously. I met him in Canada, he had been watching a few of my matches and I was qualifying, I think. There was this weird guy, it was summertime, and he was wearing leg warmers, had a snow cap on, I was thinking, who is this guy? And then after I qualified, he said Details magazine was what it was going to be in originally. It was his choice, either [Vince] Spadea, me or I think it was Chris Woodruff, or Tommy Ho. He chose me, so I let him go in the car with me, and we went to dinner a few times, and he came to another tournament.
He took a lot in, wrote a lot of his opinions. I think he loved tennis, he played high school. I actually offered one day to hit with him, because he said he played, and he was like, no way. He didn't want to hit. I was like, why? I'm not going to judge you.
He was really quiet. We'd go to dinner and he wouldn't talk much. I'd be talking with my coach and I'd want him to join the conversation, but he wouldn't. He would just take everything in. He made me a little uncomfortable at the time, but he was super nice. He said, just think of me as a shadow, I'm not even here. But I'm like, okay, but you are here.
Then he wrote this piece and Details decided not to run it. They said it was above their readers or something. So he was all upset. I remember him calling me, saying Details doesn't want to run it, and at the time, nobody really knew who he was or anything. So a year goes by, and I had almost forgotten about it and I get a call from some photographer from Esquire, who said they were running this David Foster Wallace piece and they needed pictures for the magazine.
I remember when I first read it, I hated it. It's hard to read about yourself anyway, and he wrote a lot of personal stuff, he was so detailed about so many things, that I couldn't really quite understand it. And I was almost embarrassed, not embarrassed, but the way he described me. At first I didn't really like it, but I didn't care. You get used to things.
Then as time went on, it came out in a book, and I read the whole thing, and I was like, god, this is really good. His take on tennis. Everybody writes about the top players, the way he put it, the difference is so minute, little things, I thought it was fantastic.
And then I hadn't talked to him for years and I actually saw him at Wimbledon. I think he was there to do something on Federer, and I saw him briefly, talked to him a little bit.
I remember the few weeks after his death, tragic, people were talking with me, because they were showing a lot of his stuff, and I hadn't realized how big he became.
To this day, I have people come up to me, it's amazing. He probably wrote that when I was 21, so my whole career, then when I'd be at tournaments with Maria, I'd have people come up for me to sign it. It's amazing how many people liked that, especially tennis people. The stringer here asked Jessie if her coach was Michael Joyce, said, "if I could just talk to him for a second, I'm not a stalker or anything, but that got me into tennis, I loved it."