Commitment Announcement
Spring Signing Week '14: Maese Commits to Boise State
by
Ali Jones
, 18 April 2014
After almost a year of international competition and intense tennis training, Daniel Maese decided to return home to Highland Park, a suburb surrounded by the city of Dallas, Texas.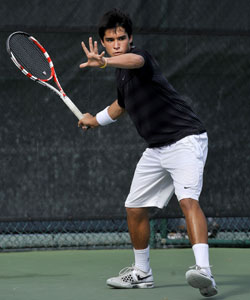 As his senior year was quickly coming to a close, Maese had to give up his tennis activities momentarily so that he could focus on his academics.
It was while he was home and working out at Royal Oaks Country Club that Coach Kathi Eckel suggested he check out Boise State. She knew the program and its longtime coach, the legendary Greg Patton.
Three months after the initial contact was made with Boise, the four-star Texan verbally committed to Coach Patton's Broncos, and plans to join the team in Spring 2015.
"I got to meet the whole team, talked to the coach for several hours, and looked at the program online," Maese said. "Coach Patton told me a lot about himself and I really like the guy. I see myself playing there. I think it'll be a good thing."
Patton, as a national junior coach early in his career, worked with Pete Sampras, Jim Courier, Michael Chang and Mal Washington. At Boise State, he has led the university to seven NCAA Tournament appearances in the past eight years and six conference titles since the beginning of his second tenure in 2003.
"I have a great deal of respect for Greg and what he stands for on the court and off - integrity, effort, and camaraderie," said Coach Eckel, who has worked with Maese for many years. "I wanted Daniel and all my players to play under coaches who hold the respect of others and who in turn teach that to their players."
Eckel emphasized the close-knit "family atmosphere" of Patton's team and believes that Maese will thrive under his tutelage.
"Daniel, as most players, responds well to positive coaching, and you won't meet too many coaches as positive as Greg Patton!" Eckel said.
With Eckel's endorsement and his own research, Maese decided that Boise and Coach Patton were a perfect fit for him.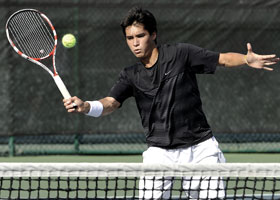 Maese said that Patton probably liked that he had been traveling and training hard for most of his tennis-playing life. In 2013 he was at
Evert Tennis Academy
in Boca Raton, Florida, and competed in the U.S., South America, Latin America and Asia.
"I wanted to be able to play longer hours, to be able to train hard, meet new people," the 5-foot-11 righty said. "I went to Florida, tried it out and loved it. I loved living on my own, being independent. That's the best part. I learned to handle myself, especially when traveling."
Florida was the culmination of Maese's lifelong obsession with tennis. At age four he found the spare racquets that his father kept in their Houston home.
"My dad said I would start hitting on the wall and see how many I can hit," Maese recalled. "I did that every single day, on my own."
He did, however, also play soccer and baseball, but tennis won over both sports.
When the family moved to Highland Park a few years later, Maese took tennis lessons at SMU, a stone's throw from his home, later joined local clubs, and eventually hired his own coach. By age seven Maese was competing locally and at age nine, he represented the United States at the International Little Mo competition in Croatia.
That trip was the first time he had traveled abroad. He realized then that even as he was hailed the best among his American peers, there were still larger stages to conquer. There were still a lot of lessons to be learned.
"It was an interesting match - the Little Mo," he laughed. "We were playing the tournament on red clay and I never had ever set foot on a clay court before. And I was playing [Gianluigi] Quinzi (now a pro player ranked 307 in the world). I just remember he never missed, I got so angry, I distinctly remember that."
Maese's demeanor on the court would sometimes manifest itself in anger - as it did in Croatia - but also fired his competitiveness.
So many years removed from that match on Croatian red clay, he has, in his own way, channeled his fire, anger and passion for the game with more positive results: Maese achieved a career high of ITF combined ranking of 279, with a singles finals appearance and doubles title at the Grade 4 Monterrey San Agustin
ITF Junior Cup
; and a singles semis and doubles title at
Copa Tampico
in Mexico.
In the TennisRecruiting Class of 2014, Maese is at a career high of 75.
"Whenever I'm playing and being patient, it helps me," the 18-year-old globetrotter said. "I see myself as more of a patient person. Whenever I get mad, I try to control my emotions. Being able to know that I need to be more relaxed, to understand the situation, to control yourself in tight situations."
His results from the grueling training he got at Evert helped him regain the form he once held as one of Texas' top juniors.
"I'm so competitive, to be there out in the heat, it drives me to insanity sometimes," he laughed.
He loves the thrill of competition, the adrenaline pumping, and the feeling that he gets when he is able to track down a ball and hit the most improbable winner.
"You only get to play a ball once," he explained. "You better enjoy it."
He continued to travel and play tennis, this time without a coach to help him.
"You grow up pretty fast on the road," said the young man.
He competed in the Bahamas, the Dominican Republic, Aruba, Jamaica, Mexico, the U.S. and Japan. He had previously trained in Spain and competed in European tournaments.
"All the places were interesting, Jamaica in particular," he said. "The biggest challenge was always the language and being able to get around, talk to people, ask questions. I also learned to stay on time, get organized."
For the moment, Maese is content to set aside his aspirations on the pro circuit.
"I've experienced the traveling life," he said. "Now I want to experience university and think it'll be a great thing for me."
Eckel said that her pupil's great work ethic and doubles skill will contribute "right off the bat."
"He's got amazing net skills and soft hands," Eckel said. "He's quick and holds an arsenal of shots which will serve him well at this high level at such a great university!"
Signing Week Continues...
Later on this afternoon at 4pm Eastern / 1pm Pacific, Peter Green talks with a number of NAIA coaches about the unique opportunities NAIA offers student-athletes. Check out that article - as well as all the other great content we have brought you in our coverage of Spring Signing Week '14!