Ask the Experts
Conversation with Tech Assistant Coach Derek Schwandt
by
Harry Cicma
, 31 July 2014
Follow Harry on
Twitter
Georgia Tech Assistant Coach Derek Schwandt has done it all. He was a two-time All-Atlantic 10 player at Richmond, in 2004 and 2005, where he helped lead the Spiders to three conference championships and three NCAA Tournament appearances. After his graduation in 2005, Schwandt traveled the world playing the ITF Futures and ATP Challenger tour, earning world rankings in both singles and doubles.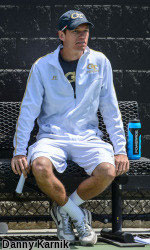 Since 2008, Schwandt has served as an assistant coach at several prestigious universities -
Virginia
,
Fresno State
, and now Georgia Tech - where he has been instrumental in recruiting the two highest-ranked recruiting classes (
2013
,
2014
) in Yellow Jacket history.
In June, Schwandt was recognized as one of the nation's top assistant coaches when he was named to the coaching staff of the USTA Collegiate National Team - a training program that helps top American college players transition to professional tennis.
Harry Cicma of NBC Sports got the chance to talk with Coach Schwandt about college tennis.
Questions and Answers
Harry Cicma (HC): What do you enjoy the most about coaching at Georgia Tech?
Derek Schwandt (DS): Working with [Head Coach] Kenny Thorne and [Volunteer Coach] Brad Horton has been a great blessing, and I've learned a lot from them about coaching and being a leader. Atlanta has a lot to offer, and I have found some great friendships at Georgia Tech. I have really enjoyed coaching in our brand new tennis complex at Tech - and working hard with the guys on our team.
HC: How did your playing experience at Richmond help you thrive as a D-I College Coach?
DS: Playing at Richmond definitely influenced my decision to become a college coach. We were a very tight team and loved to battle together. My experience with team matches as a player and coach has easily trumped anything I've done as an individual in tennis. There's something special about working hard with a group of guys, competing as a team, pushing each other, and going all in for the team.
HC: What are you looking for in recruits, to come play for the Yellow Jackets?
DS: We know what it takes to succeed as a student-athlete at Georgia Tech, and Kenny and I have clear criteria for our recruits. We are looking for guys that are serious about developing their games, who value hard work, and who have goals of playing pro tennis.
Perhaps the most important things we look for are intangibles and character. We are building a team of fighters. We want guys who are willing to lay it all on the line and compete in practice and in matches. These are the types of guys that improve and develop into champions.
HC: What are your goals for Georgia Tech Men's Tennis next season?
DS: Our goal is to get a little better every day and compete like champions. Our ultimate goal is to host an NCAA regional [which is awarded to teams ranked in the Top 16] on a consistent basis and to win an NCAA team. We understand that this will take a lot of hard work, enthusiasm, suffering, energy, and patience. I believe that Georgia Tech offers one of the best combinations of athletics and academics in the country, and we will give everything we have as a team to reach our potential.
HC: What will it take to win an ACC Title?
DS: Virginia has set the bar very high. It will take some time - and a lot of hard work - to reach that level. I believe in our coaches and players at Georgia Tech. We are going to do everything we can to reach the top of the ACC.