Special Announcement
Introducing Tennis On Campus
Press Release - 16 February 2009
TennisRecruiting.net is an online home for junior tennis players who have the ability to play tennis in college. However, many juniors opt to not play tennis at the varsity level for a variety of reasons. Can those players still have a satisfying tennis experience in college? Of course! That tennis experience is the mission of the USTA's Tennis On Campus program...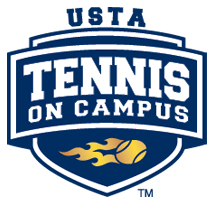 Welcome to the USTA's Tennis On Campus program!
The USTA's Tennis On Campus program is designed to provide college students with opportunities for team camaraderie, social networking, and rivaled competition through tennis without the rigors of a varsity program. Perfect for athletes who have chosen not to make the jump from high school to college varsity, Tennis On Campus offers co-ed team-based play, regional and national championship competition, and helps students maintain active and healthy lifestyles through their college years. Currently, the program is offered on over 500 college campuses and services over 30,000 students.
USTA National Campus Championship
The USTA National Campus Championship is the pinnacle of the Tennis On Campus program. Hosted in partnership by the USTA, National Intramural-Recreational Sports Association (NIRSA), World TeamTennis (WTT), and Intercollegiate Tennis Association (ITA), this venue features 64 college and university co-ed teams competing for bragging rights and the illustrious title of National Champion. Club Tennis Teams can qualify for a bid to the USTA National Campus Championship through participation in their USTA Campus Championship - Section Event or by applying for an at-large/first-come, first serve bid.
USTA Campus Championship - Section Events
Each of the USTA's 17 sections offers a USTA Campus Championship - Section Event in their respective region of the country. Designed to provide a competitive play opportunity "closer to home," these high quality events help pull teams together for a fun-filled weekend of co-ed team play, social networking, and leadership development.
Over the years, these events have grown in number, size, and quality, and have continually been linked to the USTA National Campus Championship. In 2008, 39 of the 64 club tennis teams competing in the USTA National Campus Championship received automatic bids by competing in their respective USTA Campus Championship - Section Event. Like the USTA National Campus Championship, the USTA Campus Championship - Section Events feature the World TeamTennis format. Club tennis teams can gain entry to their respective event by contacting their USTA section's Tennis On Campus Coordinator.
The 2007-2008 USTA Campus Championship - Section Events hosted a total of 2,096 players on 276 teams from 180 different colleges and universities from across the country!
Tennis On Campus Leagues and Series, Club Tennis Tournaments, and Extramural Play
A variety of additional play opportunities are available for Tennis On Campus participants. There are currently 15 Tennis On Campus Leagues and Series that offer both tournaments and match play. In addition, there is a growing list of Other Tennis On Campus Events throughout the country, which are primarily student run club tennis team events, to help keep you and your teammates playing year round!
Tennis On Campus
All across the country, college students are becoming a part of exciting co-ed tennis action that keeps their competitive fire burning and offers some serious fun, too! If you played tennis on your high school team and miss the competition, or if you're new to tennis and are just looking to meet some friends who share the same interest - this is it!
If you're an individual looking to join the program at your school or a club tennis team looking to set up a match with other club tennis teams, you're in the right place. Check out the list of Tennis On Campus Programs and get in touch with the program of your choice directly! If there isn't a program at your school, we'll help you set one up - just drop us an e-mail!
Leave a Comment
More Special Features
15-Aug-2015
Revisiting the USTA Nationals Forecast
For the second time in as many national championship events, Tennis Recruiting put out heat maps forecasting last week's USTA National Championships. We put our rankings on the line - making predictions about how the tournaments would play out. It's time to take another look at those predictions to see how we did...
1-Aug-2015
Forecasting the USTA National Championships
We had so much fun with the Clay Courts that we decided to do it all again. The USTA National Championships start today all around the country, and Tennis Recruiting once again forecasts the tournament with its Heat Maps - showing predictings for every player in the draws. Let's take a look at the best players in American junior tennis...
25-Jul-2015
Analysis of Junior Ratings and Rankings
The Tennis Recruiting ranking system provides a predictive measure of junior tennis players. For the recent Clay Court Championships, our rankings correctly predicted 77.2% of the match results. So - is that a good number? This article compares the Tennis Recruiting ranking system with other junior tennis ranking and rating systems.