Special from
Zoo Tennis
KALAMAZOO, Mich. - With its 78 years of history, the USTA National Boys 16s and 18s Championships in Kalamazoo isn't the most likely place for unique achievements. Yet Zachary Svajda, who won the 2019 18s title in his tournament debut, concluded his Kalamazoo career by winning another, beating fellow wild card Ben Shelton 6-1, 6-4, 6-1 in Sunday's final to become the first two-time Open Era 18s champion to go undefeated at the Kalamazoo event, and the first to win the 18s title in non-consecutive years.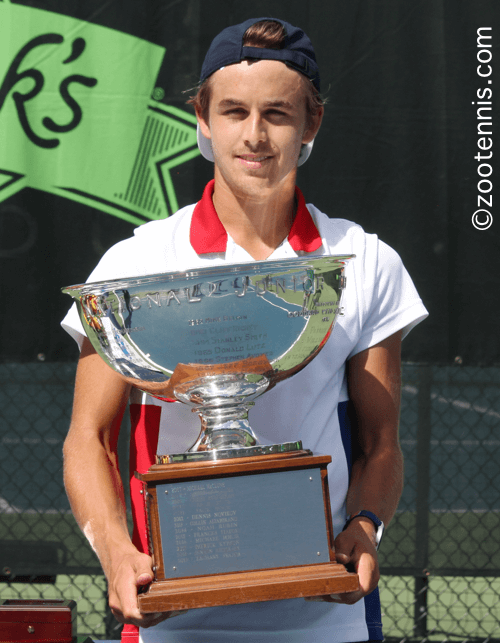 Boys 18s Singles Champion Zachary Svajda
© Zoo Tennis
Svajda won the title at age 16 as the No. 6 seed, but there was no chance he would be flying under the radar in 2021. As the returning champion, with no 2020 edition of the tournament due to the pandemic, the San Diego resident was awarded the No. 1 seed and played like it, winning all seven matches in straight sets.
No. 28 seed Colton Smith, who had beaten Wimbledon boys champion Samir Banerjee in the quarterfinals, battled Svajda throughout their semifinal contest, but Svajda prevailed 6-4, 6-2 to run his Kalamazoo winning streak to 13.
On the other side of the draw, Shelton had arrived in Kalamazoo having swept the titles at a $25,000 USTA Pro Circuit in Champaign, Illinois, so when he defeated 2019 Kalamazoo 16s champion Alexander Bernard 6-2, 6-3 in the semifinals, he had an 11-match winning streak of his own.