Notes
The table above lists all recruits as of May 24, 2021. In addition to the Star Rating, we display the highest TRN, UTR, ITF junior, and WTT rankings for each player since January 1, 2020, and for international players we display the TRN ranking they would hold if eligible.
Also Receiving Consideration
We reviewed the resumes for more than 50 teams for these rankings. Teams that received strong consideration and almost made our list are (alphabetically) as follows: Chapman, Emerson, Hamilton, Southwestern (TX), Texas Dallas
Marooned
It's been quite a while since the University of Chicago Women's Tennis Team has experienced normal athletics competition. After a 6-4 mark in 2019-20 that ended abruptly in early March 2020 due to COVID-19, the Maroons were excited to start their 2021 campaign with a pair of 9-0 wins on April 3, 2021.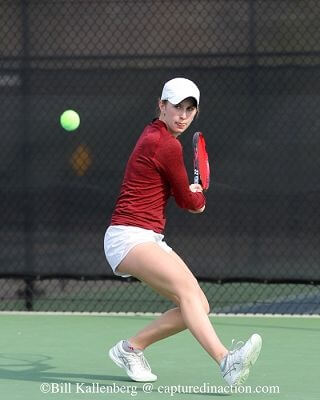 Unfortunately, that would be their only time on the courts this season.
The good news? Brighter times are ahead. And part of that optimism comes from the fact that the No. 1 recruiting class in NCAA Division III tennis is heading to Chicago.
Chicago Head Coach Jay Tee has five strong recruits coming in next season from across the country and around the world. Sylwia Mikos of Willowbrook, Ill., was a Top 50 recruit before the pandemic, while Shianna Guo (Mount Pleasant) is the No. 1 senior from South Carolina. These two Americans will be joined by Nicole Geller (Latvia), Miranda Yuan (New Zealand), and Chloe Isabella Tsang (Australia).
While COVID-19 had many impacts, Tee and his staff were able to take advantage of some of the changes.
"One of the benefits of the past year is that it has allowed us to devote more time to recruiting," said Tee. "We were able to spend much more time getting to know these women on an individual level - which led directly to the quality of the class."
Tee is excited to start working with this talented group.
"We're thrilled with our incoming class and believe that they will make an immediate impact on our already strong roster. While a strong recruiting class doesn't always guarantee success, I'm confident that we're bringing in an outstanding group that will not only bring their skill to the program - but also an attitude, work ethic, and competitiveness that will help us compete for championships."
Give Me Five
In the No. 2 spot in our rankings is Claremont-Mudd-Scripps. Head Coach David Schwarz has a quartet of American recruits coming to Southern California. Three of those commitments come from the Bay Area, including Alisha Chulani (Los Altos), Arushi Malik (Cupertino), and Trinity Zhang (Alameda). The Athenas also received a commitment from Houston, Texas, native Ella Brissett. All four CMS commitments are 4-Star recruits, including three of the Top 100 seniors.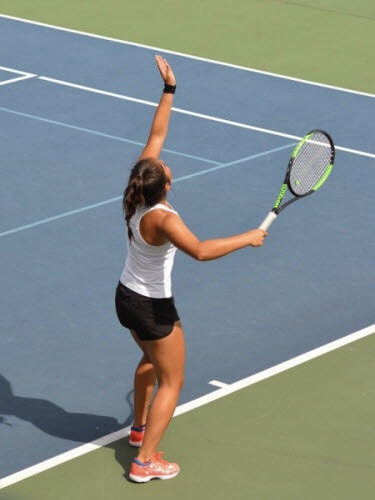 Alisha Chulani is heading to CMS
The Tufts Jumbos are at No. 3 with lone recruit Elle Christensen. Christensen, who has a career-high WTA ranking of 753 and ITF girls' ranking of 97, achieved a UTR of 10.74 - tops among all D-III commitments.
Rounding out our Top 5 in the rankings are the Middlebury Panthers and Carnegie Mellon Tartans at No. 4 and 5, respectively.
UAA Strength
The 25 recruiting classes on our rank list come from 11 different conferences, with one conference standing out: the University Athletic Association. The UAA has 8 conference members, and 7 of those 8 programs have ranked recruiting classes - all of which are in the Top 20. Chicago (No. 1) and Carnegie Mellon (5) lead things off for the UAA, and they are joined in the rankings by the NYU Violets (6), CWRU Spartans (11), Emory Eagles (12), Wash U Bears (17), and Brandeis Judges (18).
Next up is the New England Small College Athletics Conference with 6 ranked classes.
Drop Shots
Scattershooting across the rankings …
King Commonwealth - The ranked recruiting classes hail from 16 different states, and Massachusetts stands out with 5 classes on the list: Tufts (No. 3), Amherst Mammoths (7), MIT Engineers (9), Brandeis (18), and Babson Beavers (23). California is the closest with 3 ranked classes.
Streaking - 18 of the 25 programs in our 2021 rankings also appeared in 2020.
New Look - Nick Margiasso IV was hired as the head coach of New Jersey City University in 2020 - and he wasted no time in putting together a strong recruiting class. The Gothic Knights are No. 14 in the rankings - the first ranked recruiting class in school history.
Welcome Back - The Trinity Tigers (19) are back in the rankings for the first time since 2016. The five-year hiatus is the longest for any program in the rankings.
Perfect Attendance - 2021 marks the 12th year of our D-III rankings, and five programs have appeared in all 12 of them. CMS (2), MIT (9), Emory (12), Bowdoin (16), and Wash U (17).
All Aces - In addition to NJCU who has its first-ever ranked class, Tufts (3) has its highest-ranked recruiting class in program history. The previous best ranking for the Jumbos was No. 5 in both 2010 and 2015.
Recruiting Class Ranking Wrap
We hope you have enjoyed these recruiting class rankings as much as we have enjoyed producing them. Thanks to all of our contributors who thoughtfully submitted their ideas and lists. Make sure to check out all of our lists from our homepage.
Leave a Comment
More Recruiting Class Rankings
21-Jun-2021
2021 Top NCAA D-III Men's Classes
TRN continues its recruiting class ranking series this week with a look at Division III. Today we present the Top 25 NCAA D-III Men's Recruiting Class Rankings for the Class of 2021.
18-Jun-2021
2021 Top Mid-Major Women's Classes
The Tennis Recruiting Network continues its recruiting class ranking series this week with a look at the mid-majors. Today we present the Top 25 Women's Mid-Major Recruiting Class Rankings for the Class of 2021.
14-Jun-2021
2021 Top Mid-Major Men's Classes
The Tennis Recruiting Network continue its recruiting class ranking series this week with a look at the mid-majors. Today we present the Top 25 Men's Mid-Major Recruiting Class Rankings for the Class of 2021.