News & Features
Tournament Schedule
USTA/ITA Campus Showdown Schedule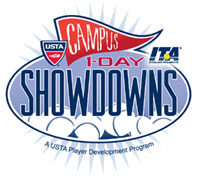 The USTA is teaming with the ITA to promote Campus Showdowns on college campuses throughout the United States. Campus Showdowns are one-day, short-format tournaments open to juniors, college players, professionals, and adults. These events give junior players a chance to compete against college competition on a college campus.
Learn more about these Showdowns here, and then check the schedule below to find a Showdown in your area - or at a school of interest for you. Just email the listed tournament director for more information.


There are no Schowdowns currently scheduled


Leave a Comment
More Special Features
30-Apr-2015
ImRecruitable College Exposure Series
The ImRecruitable College Exposure Series is designed to provide players with a unique opportunity to train like a college tennis player on court with top U.S. college coaches and play in competitive matches. Check out the event schedule for the year - starting with the College Tennis Exposure Camp on campus at Penn June 19-21.
21-Mar-2015
Former College Stars, Juniors Take BNP Paribas Open Challenge
It's one of the longest of longshots in tennis. Winning six or seven straight matches to reach just the qualifying stage of an ATP or WTA tennis event is considered a longshot. Thousands now try it each summer with the USTA's U.S. Open National Playoffs, and a couple hundred more try it each year in Indian Wells, Calif., as the people behind the BNP Paribas Open host the BNP Paribas Open Challenge. Several junior and college stars are among them.
9-Mar-2015
College Coaches Forum
Some junior tennis tournaments include college forums where junior tennis players and their parents can learn about the college recruiting process. One such forum took place at the USTA Southern Sectionals in Rome, Ga., earlier this year. Get some of the tips from that forum - and find out what they are all about...