News & Features
Tournament Schedule
USTA/ITA Campus Showdown Schedule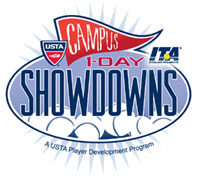 The USTA is teaming with the ITA to promote Campus Showdowns on college campuses throughout the United States. Campus Showdowns are one-day, short-format tournaments open to juniors, college players, professionals, and adults. These events give junior players a chance to compete against college competition on a college campus.
Learn more about these Showdowns here, and then check the schedule below to find a Showdown in your area - or at a school of interest for you. Just email the listed tournament director for more information.
Leave a Comment
More Special Features
3-Sep-2015
USTA's New Initiative Aims to Reach Hispanics
The USTA's new leader, Katrina Adams, is reaching out to the Hispanic community, telling them tennis is a lifetime sport - and that college scholarships should be a goal for junior players. Adams may have only started serving her two-year term as USTA Chairman of the Board, CEO and President on Jan. 1, 2015, but her first major initiative has the potential to change the face of tennis forever.
15-Aug-2015
Revisiting the USTA Nationals Forecast
For the second time in as many national championship events, Tennis Recruiting put out heat maps forecasting last week's USTA National Championships. We put our rankings on the line - making predictions about how the tournaments would play out. It's time to take another look at those predictions to see how we did...
1-Aug-2015
Forecasting the USTA National Championships
We had so much fun with the Clay Courts that we decided to do it all again. The USTA National Championships start today all around the country, and Tennis Recruiting once again forecasts the tournament with its Heat Maps - showing predictings for every player in the draws. Let's take a look at the best players in American junior tennis...