News & Features
Tournament Schedule
USTA/ITA Campus Showdown Schedule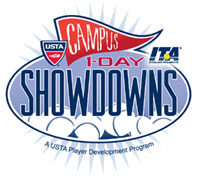 The USTA is teaming with the ITA to promote Campus Showdowns on college campuses throughout the United States. Campus Showdowns are one-day, short-format tournaments open to juniors, college players, professionals, and adults. These events give junior players a chance to compete against college competition on a college campus.
Learn more about these Showdowns here, and then check the schedule below to find a Showdown in your area - or at a school of interest for you. Just email the listed tournament director for more information.


There are no Schowdowns currently scheduled


Leave a Comment
More Special Features
24-Feb-2017
USTA's Blackman Settles in at Player Development
Martin Blackman completed his first full calendar year as USTA General Manager of Player Development in December, undoubtedly relieved that his department's transition to the USTA's National Campus was in its final stages. Colette Lewis visited the recently-opened Lake Nona facility earlier this month and got the chance to catch up with Blackman regarding a wide array of topics.
27-Jan-2017
Key Changes in Junior Tennis for 2017
A new year always brings new rules and regulations in the junior tennis world. Earlier this week I spoke with USTA Director of National Tournaments Lew Brewer about changes the International Tennis Federation and USTA have implemented for 2017.
13-Jan-2017
Eight Intriguing Questions for 2017
Covering junior tennis tournaments and reporting on individual matches is the bread and butter of what I do at ZooTennis.com. But every January, the Tennis Recruiting Network encourages me to step back and contemplate some of the structural and procedural changes that surround the always evolving sport of tennis. Here are the eight questions that I look forward to seeing answered in 2017 ...