News & Features
Tournament Schedule
USTA/ITA Campus Showdown Schedule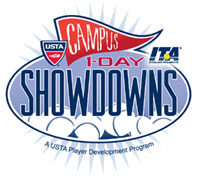 The USTA is teaming with the ITA to promote Campus Showdowns on college campuses throughout the United States. Campus Showdowns are one-day, short-format tournaments open to juniors, college players, professionals, and adults. These events give junior players a chance to compete against college competition on a college campus.
Learn more about these Showdowns here, and then check the schedule below to find a Showdown in your area - or at a school of interest for you. Just email the listed tournament director for more information.
Leave a Comment
More Special Features
20-Jan-2015
Racquet Customization a Growing Trend in Junior and College Tennis
As if tennis parents, junior and college tennis players didn't have enough expense in buying frames, strings, shoes and high tech apparel, many are choosing to shell out even more cash to have their racquets customized to preferred specifications.
16-Jan-2015
Eight Intriguing Questions for 2015
It's January... so it must be time for another edition of "Intriguing Questions" from columnist Colette Lewis. Today, in the tenth article in as many years, Colette poses eight questions about junior and college tennis that should be answered over the coming months.
9-Jan-2015
An interview with Nick Saviano
Nick Saviano began his storied coaching career at age 28 after winning two NCAA titles at Stanford and playing the ATP circuit for several years. After 15 years with the USTA, Saviano started his own tennis academy, where he can still be found feeding balls to eight-year-olds with grand slam dreams. Colette Lewis got the chance to talk with Saviano about many topics around tennis coaching and the game in general.