News & Features
Tournament Schedule
USTA/ITA Campus Showdown Schedule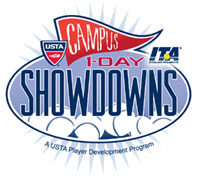 The USTA is teaming with the ITA to promote Campus Showdowns on college campuses throughout the United States. Campus Showdowns are one-day, short-format tournaments open to juniors, college players, professionals, and adults. These events give junior players a chance to compete against college competition on a college campus.
Learn more about these Showdowns here, and then check the schedule below to find a Showdown in your area - or at a school of interest for you. Just email the listed tournament director for more information.
Leave a Comment
More Special Features
29-Jan-2016
Andy Brandi on Junior Tennis
When Andy Brandi joined the United States Tennis Association's Player Development staff as a National Coach five years ago, he brought with him nearly every conceivable tennis experience: college tennis player, college coach, WTA touring coach, and tennis academy coach. Colette Lewis of ZooTennis.com got the chance to talk with him last month at the Junior Orange Bowl in Coral Gables, Fla.
15-Jan-2016
Eight Intriguing Questions for 2016
Another year... and another edition of "Intriguing Questions" from columnist Colette Lewis. Today, Colette poses eight queries about junior and college tennis for 2016.
11-Jan-2016
Learning from Lendl
During his Hall of Fame career, eight-time slam champion Ivan Lendl was known for his lethal forehand, his fitness, his preparation, and his single-minded pursuit of tennis excellence. With a stern and often forbidding presence on the court, Lendl, now 55, has made a markedly different impression on the seven junior boys he is working with as a USTA coaching consultant.