News
USTA Foundation Awards 2021 NJTL Essay Winners
by Rhiannon Potkey, 7 October 2021
Kaleb Ngwendson was intrigued when he saw the topic of this year's NJTL Essay Contest.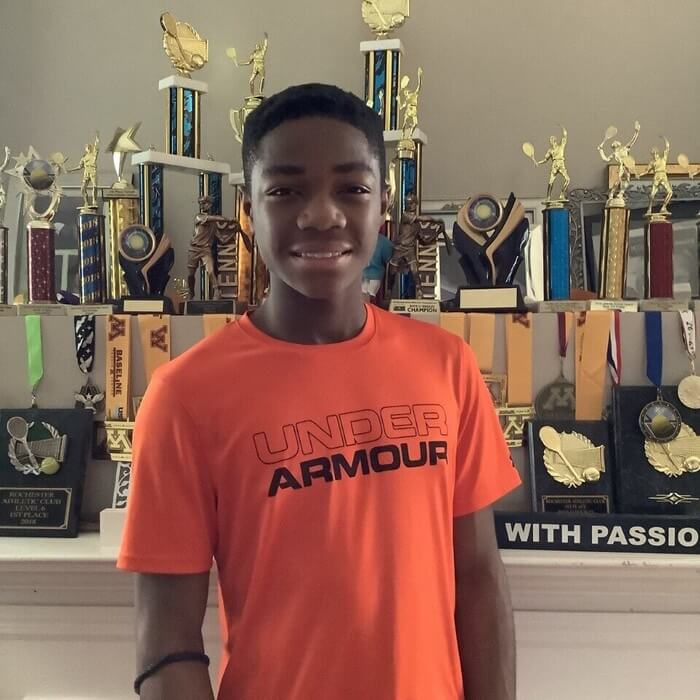 Kaleb Ngwendson
To enter the contest, students were asked to answer the following question in an essay of fewer than 350 words: "Robert Ryland was an accomplished tennis player and coach. He was known for seeing the possibilities in those he coached and within himself. Mr. Ryland was the first African-American professional tennis player and the first African-American to play in the NCAA National Championships. What facts about his story inspire you to break boundaries and excel in school, sports, and to follow your dreams? What are your possibilities?"
"It was really interesting because I never really knew about Robert Ryland until I got the prompt," said Ngwendson, a four-star freshman who plays at the Fred Wells Tennis & Education Center in Fort Snelling, Minnesota. "I heard about the bigger Black tennis players like Arthur Ashe and Althea Gibson, but I had never heard about Robert Ryland and the difficulties he went through growing up as a Black child."
Ngwendson was one of 10 winners of the 23rd annual NJTL Essay Contest, as announced by the USTA Foundation this week. The winners, ranging in age from 10 to 18, all participate in National Junior Tennis and Learning (NJTL) chapters nationwide. They were selected from more than 1,100 entries submitted this summer.
"I didn't really believe it at first," said Ngwendson when asked his reaction to winning. "I have entered a lot of contests, but when it comes to writing, that is normally not my specialty. I was excited, but really shocked."
Because of Covid-19, this year's winners will be recognized during a virtual awards ceremony on October 21st. Each winner will also receive a trip to New York City in 2022. The trip includes round-trip airfare for the winner along with a parent/legal guardian, plus a two-night stay in New York. The winners will participate in multiple cultural experiences around NYC and be able to hit in Arthur Ashe Stadium on the grounds of the USTA Billie Jean King National Tennis Center.
Ngwendson will be making his first trip to New York.
"I am going to do as much sightseeing as I can," Ngwendson said. "It is really nice to have my chapter represented. (USTA) Northern doesn't get a chance to stand out a lot, so this is really nice."
The 10 winners of the 2021 NJTL Essay Contest were selected in the following categories:
10 & under
Brooklyn Burke (Todd Martin Youth Leadership - Lansing, Michigan)
Caleb Kim (Tuscaloosa Tennis Association - Alabama)
11-12 years old
Leedia Xiong (Saint Paul Urban Tennis - Minnesota)
Devin Stuppin (Youth Tennis Advantage - San Francisco)
13-14 years old
Erin Baumeister (Houston Tennis Association)
Kaleb Ngwendson (Fred Wells Tennis & Education Center - Minnesota)
15-16 years old
Talia Saks (Legacy Youth Tennis & Education - Philadelphia)
Sean Wu (First Serve OKC - Oklahoma City)
17-18 years old
Molly Schleck (Rising Stars of Kentucky Tennis)
Clifton Sanders (Dallas Tennis & Education Academy)
Leave a Comment
More Website News
18-Oct-2021
Countdown to Signing Day 2021
It's that time of year. We are less than a month away from the most important day on the college tennis recruiting calendar - Signing Day. November 10th is the opening of the signing period, when seniors can begin signing a National Letter of Intent with Division I and Division II schools. As always, the Tennis Recruiting Network is here to keep you up to date on everything.
20-Sep-2021
Star Ratings Fall 2021 Edition
After months of waiting, the Star Ratings have finally arrived again. Find out right now how many stars you have as The Tennis Recruiting Network proudly presents the Fall Star Ratings for 2021.
9-Sep-2021
Players Awarded USTA Foundation College Scholarships
The USTA Foundation awards scholarships each year to deserving youth who have participated in youth tennis programs, demonstrated high academic achievement and require financial assistance to attend college. This year, 46 high school students received scholarships totaling $435,000.
About Rhiannon Potkey
Rhiannon Potkey is a veteran sportswriter with more than two decades of experience in journalism. Potkey has covered many sports at many levels and has a passion for finding great stories. Potkey has covered the U.S. Open, junior sectional and national events, college conference championships and Davis Cup matches. Potkey is currently Content Strategist for Tennis Recruiting. You can reach Rhiannon by email at
[email protected]
.