Star Ratings Fall 2021 Edition
by Julie Wrege, 20 September 2021
Each year, Tennis Recruiting Network awards its Star Rating accolades to the best players in each class. The very best players are tabbed as Blue Chips, and we also award 5 Star, 4 Star, 3 Star, 2 Star, and 1 Star accolades to top athletes. Just earning a rating is an achievement. Only players who qualify for a TRN national ranking - less than one-quarter of players who compete in USTA tournaments - receive Star Ratings.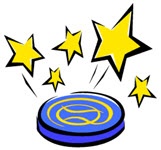 The Star Ratings use the Class Rankings system, and the ratings are updated twice a year based on a player's highest rankings. These ratings - our Fall Ratings for 2021 - are based on rankings from the past eight weeks.
You can read all about the Star Ratings by clicking here.
So here they are ... the Star Ratings for Fall 2021:
Congratulations to all the great young players on their Star Rating accolades!
Two Important Notes:
While the Star Ratings pages (see links above) are up to date as of 6 a.m. Eastern / 3 a.m. Pacific, we are in the process of updating the ratings for all player profile pages in the system - bear with us if your profile page does not yet have the proper rating. (Check whether your page has been updated by looking at the "Page updated on ..." message at the bottom of your profile.)
Also, note that the most recent rankings lists - Class Rankings and RPI lists for both boys and girls - will show the Spring ratings until new rankings are published later this week. The new rankings that come out Tuesday through Friday will include the new Fall 2021 ratings.
Leave a Comment
More Website News
7-Oct-2021
USTA Foundation Awards 2021 NJTL Essay Winners
The USTA Foundation announced the 10 winners of the 23rd annual NJTL Essay Contest. The winners, ranging in age from 10 to 18, all participate in National Junior Tennis and Learning (NJTL) chapters nationwide. They were selected from more than 1,100 entries submitted this summer.
9-Sep-2021
Players Awarded USTA Foundation College Scholarships
The USTA Foundation awards scholarships each year to deserving youth who have participated in youth tennis programs, demonstrated high academic achievement and require financial assistance to attend college. This year, 46 high school students received scholarships totaling $435,000.
8-Sep-2021
USTA Launches HBCU Coaching Grants to Increase Diversity
The USTA, with support from Tennis Industry United and the USTA Foundation, introduced the USTA David N. Dinkins HBCU Coaching Grant to support 38 Historically Black College and Universities that have tennis programs. The aim is to increase the diveristy among certified coaching professionals.