Special from
Zoo Tennis
COLLEGE PARK, Maryland - A steam bath of a week in the Washington DC area ended with 14-year-old Brenda Fruhvirtova of the Czech Republic and 18-year-old Mark Lajal of Estonia claiming titles at the International Tennis Federation's J1 tournament at the Junior Tennis Champions Center. Lajal defeated local favorite Ryan Colby 6-4, 4-6, 7-5 in a three-hour battle, after Fruhvirtova had rolled past Mirra Andreeva of Russia 6-1, 6-0 in just over an hour.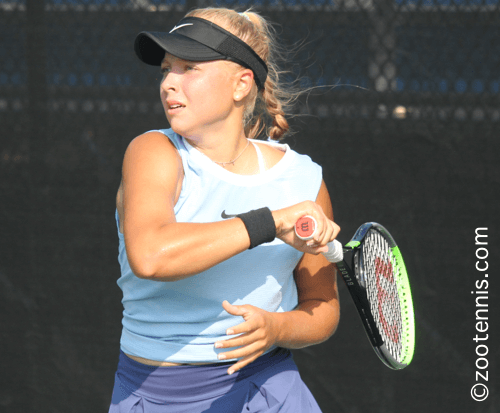 Girls Singles Champion Brenda Fruhvirtova
© Zoo Tennis
With Colby the first JTCC product to make a singles final in the tournament's nine-year history, Lajal had to find his own methods of counteracting the scores of supporters who cheered Colby from the comfort of the newly constructed Stadium court seating.
"It was the first time I played with everyone in the crowd against me," said the No. 6 seed. "Honestly, it was fun in a way. The way it was was the way I imagined it to be. I always wanted to experience it, and it was nice. Whatever you do, no matter how bad it is, someone is going to cheer for him, even a double fault. But you do something really good and no one cheers for you— that's good, because you have to cheer for yourself."
Lajal had played two three-setters earlier in the week, with the heat index reaching over 100, but a 6-1, 6-1 semifinal win over No. 11 seed Alvaro Guillen Meza of Ecuador helped his prospects in the final.

Colby, who turns 18 later this month, had fought back from a set down twice prior to the semifinals, but he too had a relatively easy victory there, defeating No. 15 seed Kalin Ivanovski of Macedonia 6-2, 6-3.