Special from
Zoo Tennis
When the Orange Bowl - the first major International Tennis Federation tournament of the year in the United States - took place last month in Florida, the juniors who played it hadn't had many options to compete during the previous six months. Many had turned to UTR, ITA, USTA sectional or Open events. But with Covid-19 protocols dictating every decision, competing at a tournament had fundamentally changed.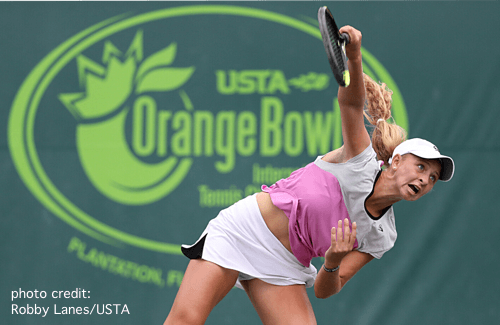 Orange Bowl Girls 16 Champion Valeria Ray
© Robby Lanes/USTA
Curious about how they coped with all this disruption, I talked to several American juniors after their Orange Bowl matches to learn how the long layoff had affected them and what they missed most about the absence of any top USTA and ITF national tournaments.
Ashlyn Krueger, the girls 18s champion, was initially able to keep her perspective, finding a silver lining at the start of the shutdown.
"I took off for a month, maybe two months, because just with everything going on, it was kind of scary," Krueger said. "Then I was just training. I think being around family and friends who were so supportive of it all helped a lot. I knew everyone was in the same situation, so it wasn't like someone had an advantage. Looking at the positives, there weren't a lot, but staying positive during that time was definitely a key thing."
After returning to training, Krueger had her hopes dashed when the USTA Girls 16s and 18s National Championships in San Diego were canceled, as were all the USTA Nationals in August.
"I was sad, because that tournament is very fun," Krueger said. "I understood that it was going to be tough to put that on with so many people. It was sad; I had really been training hard, getting ready for that, getting back into normal training, and when that was canceled, I was like, 'I don't know what's next.'"
Girls 16s champion Valeria Ray said the inability to get on the court last spring was an emotional blow, but she had made her peace with the new normal.